Happy Holidays! A look back at Townsend Leather in 2014
MESSAGE FROM THE PRESIDENT
JARED ECKLER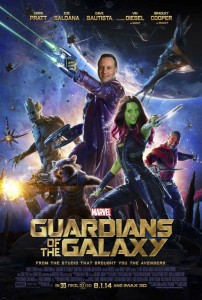 In 2014 I witnessed our team capture many triumphs of high achievement as we Dared Greatly. These heroic efforts and achievements by our partners on many occasions inspired, moved, and stayed with me long after the day was done. Speaking in September at our 45th Townsend birthday party, I was humbled by the greatness achieved by Townsend, its customers, and suppliers. The reputation, legacy, and the partnerships Townsend has fostered and developed over the years is amazing to behold!
Doubling as our DJ for the 45 th party I played some of my favorite songs from my favorite movie of the year, Guardians of the Galaxy! As a big fan of superheroes going back to my childhood, it is quite awesome to now work with and for superheroes every day! Enjoying all the new super hero movies with my daughter is a lot of fun for us both! We saw Guardians on opening day and fell in love with its cast of underdogs banding together to become something greater than its parts. As super hero movies are wont to do these days, they humanize the story of the main characters – because after all, it's hard to relate and empathize with someone who is invincible. The task of saving the world becomes a bit more daunting and therefore rewarding and inspiring when the heroes are vulnerable and flawed – like us. Emotionally, the story and characters both connected with me and Olivia. It was easy for me to relate the characters of the movie, through their struggles and through their triumph, to those of Townsend's partners, making it all the more meaningful for me.
Equating our team efforts to a summer blockbuster movie is not a statement I would have made publicly a few years ago, as it may have been too fun for those times or too telling of my age as a leader. Townsend and its partners enjoyed a year of growth and success in 2014 and we had fun doing it. I am proud to say that we enjoy our work and we are looking to see continued challenges as opportunities that will be met with our team enthusiastically rising up and proving again and again what a great team we are! I am, if you will; "Hooked on a Feeling" and "High on Believing" in each other, in teamwork, in our customers, in our suppliers, in the improved economy, and in spreading our unrivalled quality, service, creativity, and delivery throughout the galaxy in 2015!
In 2015, I wish the partners of Townsend Leather many experiences of great teamwork, fun, success, and lighthearted moments through family, work, and life!
President, Townsend Leather
Jared Eckler
This has been one spectacular year for Townsend Leather. New leathers, new people, new projects, new opportunities, new growth… And has certainly given us a lot to be thankful for!
There is no way to truly capture all the magic that happened this year as super hear team of Townsend partners banded together and created awesomeness, but here is a quick look back at just a couple highlights.
We started the year right off with some exciting new leathers, and then spent a whole month professing our Love of Leather, with our Love of Leather series.
This year we celebrated our employees unique personalities, hobbies, and accomplishments. With awards, citizenships, marriages, babies and more.
We celebrated our national pride at manufacturing a product that is hand crafted in the United States. 
We celebrated our local pride with impressive local programs like PTECH.
And of course we got excited about numerous tradeshows.  Celebrating near and far.  
This year also included super fun events like our "Cabin Fever Party", our "Longevity Luncheon", our "Earth Day CleanUp", our Halloween Costume Contest, our Ice Bucket Challenge, our Chili CookOff and Cookie BakeOff, and of course just recently our Holiday Luncheon and Ugly Sweater Contest.
Our Holiday Luncheon and Ugly Sweater Contest were great fun.  There was so much food, laughs, and memories.  There were special awards and lots of hugs going around.  We spent time remembering the fantastic year we all had at Townsend Leather and talking about the greatness we plan to create this coming year.  Our Ugly Sweater winner are shown in the photo, the hand made wonders take home the big prizes!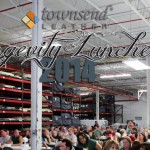 Of course one of the biggest events of the year was
Townsend's 45th Birthday bash.
This year was also kind-of bookended with a couple of very meaningful awards. Toward the beginning of the year Townsend Leather was named a Top Work Place of 2014. And just recently, toward the end of this year, Townsend was named a Best Place to Work of 2014.
These awards are meaningful statements of the special people Townsend has. This year was a fantastic one, and it is all due to the people. The partners here in the building, the partners working with us to provide materials, the partners across the world spreading the good word of Townsend, and the partners across the world designing amazing things with Townsend's leathers. The people are what it all comes down to. And this year was a people-year.
As we say goodbye to 2014 we thank you for you love of leather, and for being a fan of Townsend Leather. We are welcoming 2015 in with wide open arms, big expectations, and even bigger ambition.