Magic at Townsend!
We are still in a whirlwind of magic and happiness after last Friday!
Townsend Leather spent the day, once again being awarded as a 2015 BEST PLACE TO WORK by the Albany Business Review.  See our previous awards here, Townsend is a Top/Best Place to Work
We are so honored to be recognized as a Best Place to Work, we know it and feel it every day.
The award event was held during the day Friday.  A handful of Townsend Partners attended to represent our company and they had a blast.  Each company submitted video clips to show how rockin' their workplace is – Townsend's video did not disappoint!
It is always an honor to be recognized especially for something that all Townsend Partners create together and hold in high regard.  We work as a team to create this best workplace, we work as a team to rock out, we work as a team to create meaning and memories.  It is a special kind of magic to work at such a great place and to be able to share that with the community.
But, that was hardly the only magic of the day.  That evening, the magic continued in full force with a visit from SANTA AND FRIENDS!
Townsend Partners had prepared a Winter Wonderland area in the building to host Santa, Mrs. Claus, Sprinkles the Elf, and ANNA and ELSA from Frozen!
So many happy excited kids came through to see Santa and his friends and get their photo taken. Seeing kids run and hug Santa or Elsa or Anna, seeing kids come in so incredibly excited and then immediately get shy, seeing kids help their siblings get comfortable, seeing partners dance all crazy to try and get kids to smile, seeing the Townsend team all over the place with smiles on their faces helping everyone… there were certainly many memories made and many stories shared about Sprinkles, and Elsa, Anna, Mrs. Claus and of course SANTA the next day.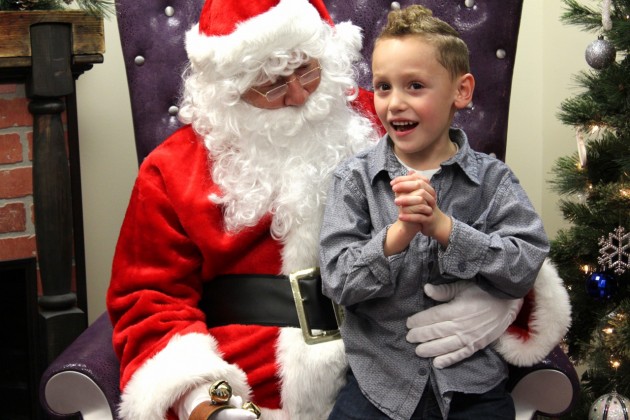 Cookies, crafts, music… it was a truly magical night with magical friends and we look forward to doing it again next year.