Relay For Life 2015
A team of dedicated Townsend Partners took special time and effort this past weekend to show their support for friends and family, to get involved in the community, and to take an action toward helping create a future that holds no place for cancer.  Once again, Team Townsend was out at our local Relay For Life, raising money and spirits.
Team Townsend had a variety of fund raising efforts, selling water and goodies, selling hand-crafted inspiring crafts from one of our own, Tiffany, donations, a super fun casino bus trip, and even working with our local Applebee's restaurant!
The final total is still out, but Team Townsend has raised over $1800 toward cancer research so far this year!
The Team had so much fun working hard at the Fulton-Montgomery Relay for Life. The team manned the Townsend Tent for the hundreds of people walking around by selling items, raffling a handbag, giving hair extensions, and painting faces.
Thank you so much to Louise Kucel, Jamie Kucel, Mary Ellen Palmateer, Rebecca Danelorich, Larissa Groesbeck, Tiffany Young, Ashley Donald, Kim Russo, Cindy Moyer and her mother Merry, Sharon Wager and fiancé Tim, Cheryl & Steppy Brothers, Jared, Olivia, and Sarah Eckler, Cathy Willis and her daughters.  You each helped make this a meaningful and impactful time.  Your involvement, passion, and care made this a special memorable event, and is an example of how awesome Team Townsend truly is.
Everyone at the Relay For Life event has stories and memories of the time.  One memorable story stuck out for one of our team's face painters, the master of crafts, Tiffany:
"I met a family that really stuck out in my mind; they were one of the first face painting customers that I had Saturday morning. Their 2 year old daughter was a miracle baby! The mother is a survivor of brain cancer, which was reluctant to rid her body. She suffered in many different ways and the doctor pretty much told her that she would never have children. Then, she became pregnant with their daughter. They visited the booth twice, for two different face paintings during the day. It was very touching hearing her story and having the opportunity to meet someone so thankful and happy about Life after Cancer. She was truly an inspiration. She was emotional telling the story, but kept looking down at her daughter with a huge smile on her face. I do not think I will ever forget them."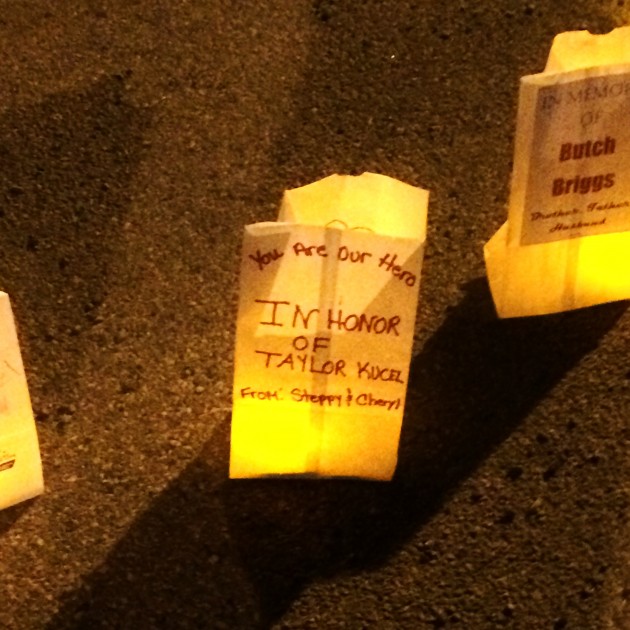 Relay for life events always hold so much emotion and meaning.  Everyone knows someone touched by cancer and that is what makes the luminary lighting, after the sun sets, such powerful.
"The luminary lighting at night is always a beautiful and memorable part of the event as it really brings it home how many people are affected by cancer."
Donations are being accepted for Townsend's Relay For Life Team until August, click here for info and to donate, Team Townsend Relay For Life 
Looking forward to Relay for Life 2016.