Townsend's 'Sample Magicians' Create Custom Color Scheme
Isn't it a wonderful feeling when you know what you want and you are able to get just exactly that?  But, what happens when you just kind of know what you want, you know you want something "around here" something "kinda like this", something "that feels like this"…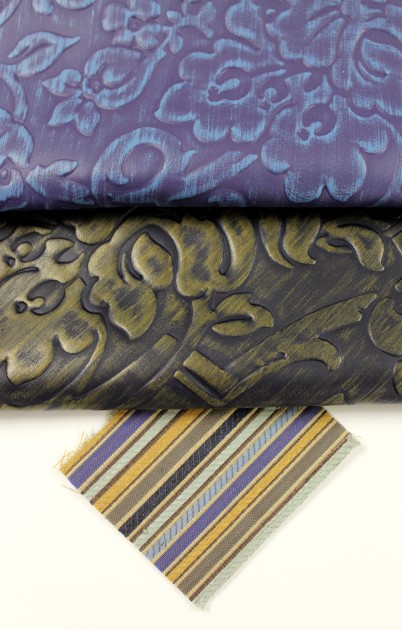 Because we are the manufacturer, we have the luxury of creating and customizing solutions to every customer need, we can provide exact color matches and make custom patterns but because we have some creative geniuses on our team with magical skills we delight solving the less specific needs as well.
Our tight-knit dedicated Sample Team has been given a couple of interesting challenges recently and they not only responded to them with joy, expertise, and perfect solutions – but did so in record time.
Sometimes you want to be able to explore some options and you "will know it when you see it".  A carpet sample, a fabric swatch, a sunset, a photo of a room… a simple thing can provide design inspiration, but may not give you the specifics.
Working from nothing but a print-out snap shot of a distinct looking room, our Sample wizards were asked to create a leather scheme for a designer to peruse.
One Sample Expert took on the challenge and was able to pull together an impressive array, a customized color scheme.  She didn't just look to match the specific colors shown in the photo (shown in the center of the image above), but rather spent time exploring the feel, textures, and essence of the image.  Providing a wealth of leathers that each speak to different aspects of what first drew the designer to the image.
This custom scheme with its different ranges, selection of patterns, products, and textures was done so well, so thoughtfully, and so quickly – it nearly had the rep requesting it in tears.  Nice work Sample Department!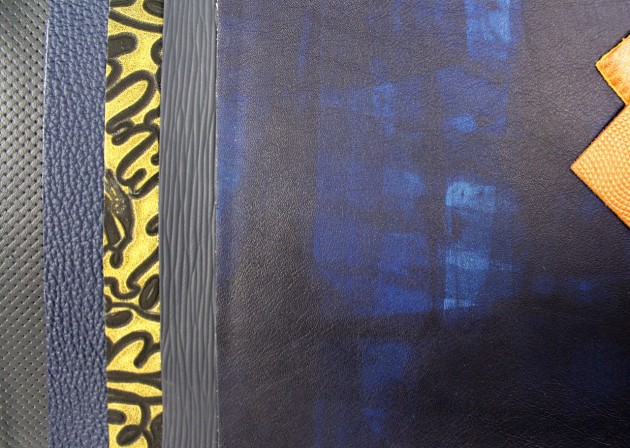 BONUS!
And just for fun, at the request of a Townsend Partner, our Sample Department "Master Chefs" quickly and expertly whipped up a LEATHER TACO!  It is truly stunning and nearly looks good enough to eat!  Our Taco Tuesday was an extra fun blast with this addition!
If you have your own "Sample Challenge" that you need to consult the experts for, contact us today. We can get our team on it to create your own designer sample selection and move your designs from inspiration to action.
If you are looking for your own customized color scheme you search our database of approximately 1000 (and growing!) colors, textures, and qualities from our catalog of in-stock and standard leathers.
Samples are intended for potential customers.  Townsend Leather sells to the trade only.  If you are not a current customer you will be requested to complete a New Customer Form and include your Tax ID#.   End-users should contact a professional designer or a Townsend Leather sales representative in your area for samples and sales information.
We will fill your online order with 4″ X 4″ samples of the items you selected and send them to you for delivery within one week's time. Should you have special requirements for sample size or delivery schedule, please send us a note with the details or call us directly to place your sample order. And if you don't see exactly what you need here, we may have it in our archives or we can very likely make it, just for you!
Contact us to discuss custom sample options.
We take great pride in our level of workmanship and customer service. As an experienced, hands-on manufacturer, product quality and customer responsiveness are the cornerstones of our business. Townsend's product lines of cowhide, sheep, lamb, calf, suede, and goat feature dozens of collections and come in hundreds of standard colors. Custom colors in any of our standard products are available with a quick turn-around time. We also supply genuine woven leathers, embroidered leathers, specialty leather products such as floor and wall tiles, and 3M Scotchgard™ is also available for our leather products.