The Magic that was, the Magic yet to come…
This was a crazy year a year of ups and downs, a year of beats, a year of aches, a year of love, a year of heart. A year defined by heart.
This year we saw our team band together and accomplish great things, together. We continually outperformed and over impressed. We created new leathers, we grew and trained, we fine tuned relationships. we enhanced our building, we won awards, we came together in times of need, we Got Shit Done, we created greatness.
We had so many opportunities this year to show our hearts and our care for each other. We help team members, family members, community members, and dogs in need – with still plenty of care to spare!
We even joined in the fun of the mannequin challenge! – the craze that went viral this fall! Our Partners had a lot of fun being frozen while working and have fun too!
We had countless hours of fun, laughs and memories like at our Annual Cabin Fever Party…
Our Annual Longevity Luncheon, that was filled with heart and humor alike, celebrating the anniversaries and legacy of so many Partners…
Getting fit at our 1st Annual Health & Wellness Fair…
Goofing around at our famous Halloween Costume Contest…
Winning Awards like being recognized as a Top Work Place for the 3rd year in a row!
Cooking up some goods at our annual Chili Cook-off and Dessert Competition…
And so much more fun and heart and memories… all while creating the most impressive beautiful luxury upholstery leather out there and helping to make things like this…
It was an incredible year. And as always we closed it out with our annual Holiday Luncheon where we sit back and take stock of the year we just experienced together.
We watched videos and looked at photos. We heard touching stories of the year from Jared. We laughed together will silliness of Thom, Carrie, and Eli. It was a perfect closing symbol of the year as a whole. The laughs, the hugs, the heart…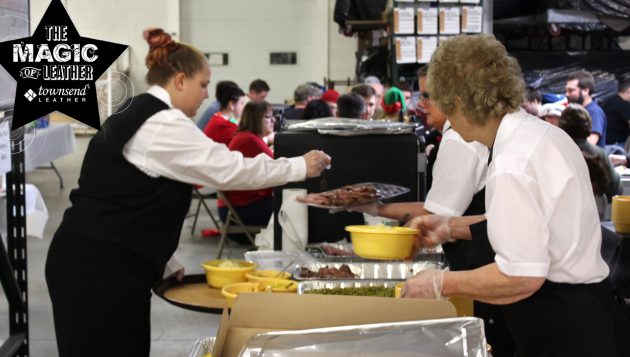 The event and the year were summed up perfectly by Sarah Eckler, who opened our event. Her speech below touches on all the magic of this incredible team…
Sarah Eckler:
As many of you know, over the last few years, we've picked a theme for Townsend for the year to unit and inspire us and carry throughout the year. We've done the "Grit" theme, a Superhero theme, and this year's theme was Townsend Rocks, which was a fun one for our Cabin Fever Party when many of you dressed as rock stars and musicians.
I'd like to introduce our theme for 2017, "The Magic of Leather."
So, why a Magic Theme? To me, what we do here everyday is magic. We make magic here on our best, and even, worst days. We make a beautiful high-quality leather our customers around the world value in their work. And yes, some of our customers do indeed think we're actual magicians "Can I get 4 hides of a custom embossed & tipped purple leather by Tuesday?"
We make magic when we ship orders on-time and meeting our costs and exceeding our quality goals. But beyond the product, I see magic happening here every day. Magic is covering for a sick or vacationing co-worker with a smile even though it means you have extra work to do. Magic is the way we rally together to help a partner with donations and raffles during a hard time or injury. Magic is departments working together to fix an error or solve an issue or create a new product launch or pull off another successful trade show.
Magic is our culture that blends the importance of Getting Shit Done and having fun – witnessed through our t-shirt Fridays and things like our Halloween costume contest and today's Ugly Sweater contest. Magic is coming to a job where you truly like and respect your co-workers. Magic is picking up a dropped sample, moving boxes for another team, working in a different department that needs help. I think we are all lucky to work in such a place – a company that our reps and customers and suppliers recognize is a place where we go the extra mile every time for each other.
Throughout 2017, you will see the Magic theme incorporated into a lot of things at Townsend. Pam has been working hard to revamp our recognition program and a new "magic" themed recognition program will be kicked off in early 2017.
A few other things I see as magic: your generosity in filling the Toys for Tots bins. We already had one pick up but we are collecting until Friday. Thank you for making magic for some local kids this season. We are also sponsoring again a family in need. Catholic Charities found us an Adopt-a-Family this year – a single mother with 4 children. Our Moments team has already begun their work for them. Some members delivered winter coats and gear and groceries to them last week. We are now working on other items on their wish list. Today we will begin selling raffle tickets for items generously donated by our Moments Team and "shingles" for our Gingerbread house built by Roy. We are selling them today and throughout the week. Please consider buying some shingles or raffle tickets – all proceeds go to this family and their oil bill and other wish list items. The raffle will be drawn this Friday night at our Santa Land event. Santa Claus (our very own Thom Dona) is coming to Town(send's) Lodge from 4 – 6:30. We will have gifts for each child, cookies, juice, hot cocoa with whipped cream, and the kids can pose for a picture with Santa. When we are done with the raffle, we'll buy the last things for the family and Thom will deliver to the family dressed as Santa (so more magic).
I will close by sharing the Message from our President (not Donald Trump as my daughter thought), but Jared Eckler that is in both the Partners Press and our calendars:
MESSAGE FROM THE PRESIDENT
I am often asked by customers, other companies, and suppliers, "What is the 'formula' for Townsend's success in cultivating and sustaining such an engaged, enthusiastic, fun, caring, hard-working, innovative, and amazing team at Townsend?" As much as I would like to say that the answer lies in equal parts culture, personal relationships, inspiring customers, leadership, heroic efforts, Grit, and people that just rock – the truth is, I believe there is an even more powerful force at work here, something close to "magic"!
How else is there to explain the enchanting products created, the fascinating designs conjured, the unparalleled quality crafted, the unique solutions and ideas that this team concocts, and the ability of this team to bewitch those who have performed alongside us over the past 5 decades? Such amazing ideas, products, and people cannot be explained by a formula or science, or without expressing belief in something bigger than us. It is the sum of all parts, working together in an inexplicably magical way, that ensures the work we do together and the leathers we make are not ordinary, predictable, ho-hum, or mediocre, but rather, spectacular feats and extraordinary works that astonish all.
While the magical coming-together of all of the elements described above can be considered a mysterious riddle, Townsend and its relationships with its partners is no trick, sleight of hand, or illusion! Ever-nearing our 50th anniversary in 2019, we have been working on and perfecting these magical acts with you for almost half a century! We could not do it without all of you, our partners, our marvelous employees, suppliers, and customers! I want to take this time to thank all of our wonderful partners for a spellbinding 2016! Our teamwork makes the dream work! I wish you all a wonderfully magical 2017!
Jared Eckler
Townsend Leather President