The stories of where we've been and where we are going…
The stories of where we've been and where we are going…
We believe there are stories everywhere, in everything. We are driven by stories, we share stories, we are inspired by stories. So with the new year comes a new theme for Townsend Leather, Stories Everywhere. Stories, like floating word bubbles, that should be collected, enjoyed, and shared like the beautiful, attention-grabbing balloons that they are.
The past few years we have been thinking of year's in terms of a theme (Superheroes Work Here, Townsend Rocks, The Magic Of Leather…) it is a fun way for us to think about and craft our many events throughout the year and it always relates to the work we do and the way we interact with our customers. This year we are going to put our focus to Stories. Your stories, project stories, people stories, the story of each product – each hide – each hand that touches it… stories everywhere.
2018 will kick off our new theme, Stories Everywhere. We will use this theme to help shape marketing elements this year and it will influence some fun we have around Townsend. We will be looking this year to capture, collect, and share as many stories as we can. Stories of Townsend, of Partners, of customers, of design, of anything! These stories might take the form of phone-captured photos that you of our people and products at Townsend or out around the world, or might be stories of new exciting leathers, or might be actually long-form written stories where we share successes and learnings with each other. There are stories everywhere, we just need to grab them out of the air and share them with each other.
Please join us in celebrating the stories of Townsend, the stories of you, and the stories of leather all throughout 2018. You can share stories directly to us at this link: www.townsendleather.com/stories and invite everyone to share stories with us too.
We have so much to look forward to this coming year, but let's take a moment to reflect on the magical story filled year of 2017 that we just had.
One of our favorite magic moments was being awarded the honor of being a "BEST PLACES TO WORK 2017" by the Albany Business Review. A small team of dedicated Townsend Partners attended the award ceremony and celebrated in style!
We closed out our year with our Annual Holiday company-wide Luncheon, where we all come together for a catered in-house lunch and share stories, hugs, laughs, and memories taking a breath from the crazy year we just had and moving forward with lessons and inspiration.
Each year we hold our Ugly Sweater Contest at this luncheon, and it never disappoints. Along with stories form the year, superlative awards, and a message from the president it is a heartfelt and memorable time for all.
So so much happened this year, it is impossible to capture everything, but we tried! Take a look at a year of fun, magic, and craft from Townsend Leather all packed into a couple minutes – our year in blurview…
A few of our superstar Townsend Leather Partners are known for their wacky "who, what, where" hijinks, so we even had a moment to see their silliness play out on the big screen this year…
We are looking forward to the stories, continued magic, and incredible things that 2018 will bring. We have so much new leather to craft and share, www.townsendleather.com/new and are always working to create even more fantastic things, www.townsendleather.com/randd . And we can't wait to see what comes of our newest expansion as we start work on revitalizing a historic building down the street from us, and we excitedly look forward to all the potential the new building holds for us and our team.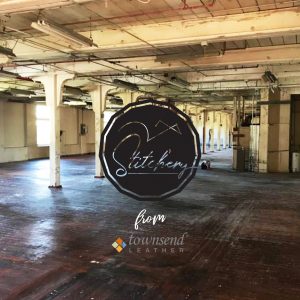 .
There will be so many stories to share this year,
please share yours with us,
www.townsendleather.com/stories
—
Stories are what have always made Townsend and its partners more passionate, inspired, and determined to achieve such great heights. Whether the story is about a customer, competitor, a need, a setback, a challenge, or the achievement, we love stories that need a hero or a great effort, or that celebrate one!
Our company recognition is based upon telling stories about how our partners overcome, anticipate, help others, and make our magic happen! If a company's culture is defined by how they work, and its purpose is defined by what they stand for, then its partners' engagement is defined by how they feel about both. The way we feel about our work is often conveyed with pride, emotion, compassion, and joy through the stories we share. Our partners know Townsend is known for designing, creating, and producing the highest quality leather on-schedule, a job they take seriously, and in itself, is what creates a lot of pride in making a career out of working with such cool people on such cool things! Their careers become a calling, a passion, and/or a livelihood when it is given a narrative.
The stories of this leather, that effort, this person, that team, this color, that print, under these circumstances, make the difference to our name and to our customer and their end user, and it was felt. No matter how we earned it before, it is the stories we create today and tomorrow that keep giving meaning, purpose, and fulfillment to us, from the newest employee or customer, to the one who has seen it all! Going into our 49th year, the stories we create and tell still drive our future and build on our mutual legacies – from our suppliers, to our employees, to our external sales team, and finally our customers, without whom there is no story to tell. On behalf of our whole team, I thank you. We hope to create a million stories of achievement, success, wonderment, inspiration, a little suspense, a touch of drama, and of course, many happy endings in 2018 together!
Jared Eckler Townsend Leather President
We are so grateful to each of you and the magic you brought Townsend this year. We are grateful for your skills and efforts and passions. We are grateful for the wealth of stories and excitement you bring to your work and relationships. 2017 was a successful year and has set us up well to create a truly story-worthy 2018.