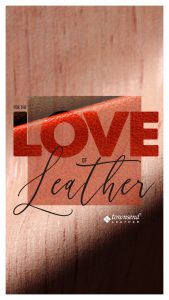 We love what we do, who we do it with, & who we do it for – YOU!
For the love of leather and the love of you, we are very grateful to have such a design-loving and quality-appreciating family of leather-lovers all over the world.
As a sign of our appreciation to you, we want to send you a special gift.
---
Take a moment to find your favorite Townsend Leather product from our vast array of beautiful and ready to ship, In-Stock leathers.
Or take a couple of minutes to learn even more about Townsend Leather and the passion we have for making the greatest upholstery leather in the world.