Townsend Leather is first and foremost a community.
Townsend is a third-generation family business, founded over 50 years ago, in 1969, by Albert (Red) Kucel and the Kucel family. There are many other families working together at Townsend and Townsend thinks of everyone here as one big family. Townsend is a fully drug-free environment with a strong focus on safety and continuous improvement.
For information on Townsend Leather's Community Support and ways that we can offer a "hug" toward any of your clubs, passions, or projects go to: www.townsendleather.com/hug
Townsend is active in both the larger local community, with participation in local events and fund-raising, and in our own internal community's teams and clubs. Townsend's employees (who are called "Partners") support each other through life's ups and downs with our Hides of Hope Fund, and we spend social time together at a variety of employee events. And, we actively seek to recognize the great work and adherence to our company values that our Partners' demonstrate with our "First Downs and Touchdown Awards" program. Nominated partners are recognized company-wide for living these values on a monthly basis.
Townsend is passionate about our green efforts, continually investing in more environmentally-friendly machinery and processes and being cognizant to make the least environmental impact we can throughout our production stages. We are also passionate about finding a cure for cancer, with donations to Memorial Sloan Kettering Cancer Center (MSKCC), and through our active participation in our local Relay for Life.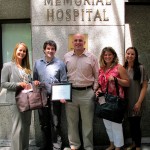 Townsend's core philosophy rests on a strong foundation of putting its partners first. We abide by our company mission statement and Partner-chosen set of company values. We "promote from within," giving current partners the first opportunities at growth within the company. And there are always new areas to work in and many opportunities to try something new as the company diversifies.
Townsend's work is creative, engaging, hands-on, and minds-on. Everyone here works with passion and forward-thinking. There is always an opportunity for creative problem-solving and experience-building. With such a variety of departments and work to be done, there is always something to get interested and involved in.
Teamwork is the number one value at Townsend, and this shapes the way Townsend's Partners work together. Townsend's workforce is a diverse one, with people of all ages and from a variety of backgrounds and experiences, all working together toward the same goals and doing it as a team. Everyone looks out for each other at Townsend. The production of leather requires a varied group of individuals, using their own set of special skills and capabilities and putting these together to create a beautiful end result.
Townsend Partners are given many opportunities to voice their opinions and really effect change at Townsend. We engage in routine group meetings to make sure everyone is informed and educated, we have yearly performance reviews to set goals for the future year, and we have training sessions and programs planned on a regular basis. A wide knowledge base and sense of being part of an evolving and dynamic experience are vitally important at Townsend and our ability to grow together with the times.
Townsend is an international company. With sales representation and offices or agents around the world selling Townsend Leather, working at Townsend allows you to experience a global company and network. Yet, Townsend strives to make every employee feel connected and valued for their contribution, wherever they may be or whatever their title or current job position is.
Townsend Leather is known, used, and loved by interior designers throughout the world, and can be found anywhere from the most elite celebrity homes in California, to the most luxurious hotels in Dubai, to unbelievable private jets all over the sky. This worldwide presence is something we take a lot of pride in, and it inspires our passion to keep innovating every day!
Townsend currently employs approximately 150 employees, with two-thirds of the staff being production-related and the other third comprised of office and administrative professionals including Accounting, IT, Customer Service, Sampling, Sales & Marketing support.
Townsend strives to create a comfortable, enjoyable, and engaging atmosphere for our tight-knit community of Partners. We are always looking for people who like to get involved, think, solve problems, and approach things with a positive attitude.
Townsend offers a very competitive benefits package for all full-time employees. With dental care, life insurance, 401K sharing, paid time off, and an incredible health care package, you can know you are taken care of through life's milestones and events.
Townsend Leather is a unique working environment and culture. We are not the stereotypical "corporate" culture. In fact, we try to make our Partners feel comfortable and "at home" when they are working. At the same time, we strive to be professional in all aspects, to be technically-sound and current in our ways of thinking and working, and to be in adherence to demanding standards of both conduct and quality performance, such as our recent AS9100 certification demonstrates.
If you are interested in becoming a part of our community, let us know! fill out our online application.