Like the warm enveloping wrap from luxury leather, every day at Townsend is like working inside a big hug. We love what we do and everyone we do it with.
Do you have a charity you want Townsend to know about? Do you have an event coming up that you would like Townsend's support with? Do you need a donation for a cause you are working on?
Townsend Leather is passionate about supporting our community and getting involved and giving back. We might be able to help support your cause. Let us know what your cause is and how we can help by filling out a Townsend "Hugs" Application.
Our "HUGS" Team (Help Us Give Service) review all the community outreach/charity/event/donation/HUGS applications that come in and will respond to you with any ways that Townsend is able to support.
At Townsend, we are always looking to spread joy and warmth to everyone we know, and we invite you to do the same. Take a moment to enjoy the life you are living and share a moment of joy, laughter, and heart – give someone a hug.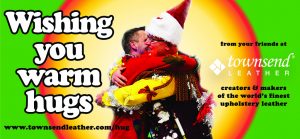 And that is why we created Townsend's Hugs Program. Our HUGS Program is our way of reaching out and connecting with the community we live in. We have an organized Team of passionate dedicated Partners who are always looking for charities, causes, teams, and events that Townsend can help support. We receive "Hug" applications, review them as a team, and find ways to help.
If you have an event, a charity, a cause, a team, or something that you are passionate about or that you need help with – submit your story to us and let us find a way to help.
---
Community Hug Application
Townsend's Hugs Program is our way of reaching out and connecting with the community we live in. We want to find ways to help your cause and your passion. Complete this Hug Application to see how Townsend Leather's Hug Team can help support your cause. We are not able to provide for every cause, but we can always help to spread the word about yours and we love to know what is happening in our community. So, take a moment to share your story with us. If our Hugs Team can find a way to help support you, we will contact you for more information.
---
Our favorite thing about Townsend Leather is who we work for and with. We are dedicated to the craft of leather making and are supremely passionate about making the absolute best possible luxury designer leather. We 'Get Shit Done' but we have fun doing it too! We are focused on keeping each other happy and one of the many ways we do that is with our support and care for each other and all our unique passions and causes. We are proud to have a team made of the finest folks in the area, but we are always interested in meeting new awesome people. If you are interested in joining Team Townsend Leather, fill out our online job application www.townsendleather.com/job.
Or maybe you just want to follow along and check in on some of the cool things we do as a company or create for customers, then follow us on Facebook, www.facebook.com/TownsendLeatherCompany or Instagram, www.instagram.com/townsendleather/
Or just drop us an email to say hi at info@townsendleather.com
Every year we hold a year-end holiday lunch, as a time to reflect on what we just accomplished with each other, take a breath and look forward to the year coming. This famous Hugging photo features two of Townsend superstar fan-favorites Brett Van Nostrand and AJ Allen sporting their truly impressive hand-made ugly sweaters (and yes, they light up!). This captured moment supports a long tradition of Townsend's, fun and hugs.