Craft your future,
with your own hands.
The future is what you make it.
You can shape your future and your story the way you want to.
Find your passion, develop your skills, take pride in your work, create something new…
do it with Townsend Leather.
"Top Work Place" and "Best Places To Work" winning, Townsend Leather, is currently hiring awesome people.
Take a chance on your self and your future and apply today:
At Townsend Leather you are part of a unique culture of excellence.
We don't hire for specific positions, but rather hire awesome people and train them for a variety of responsibilities along the way.
Every employee has a growth path of their own design, with new roles responsibilities, and opportunities arriving all the time. With support all along the way, through training inside and outside of Townsend, through team-focused culture, through travel opportunities, health care, dental care, cultural experiences, in-house on-site Yoga classes, wellness events, values-based awards, fun t-shirts, small group events, and company-wide fun times… growth and time at Townsend is not just skill-focused, it is focused on the whole person.
Townsend Leather is full of Partners that are full of passion.
We take pride in our work, in our team, in our craft. We are the creators and makers of the world's finest upholstery leather.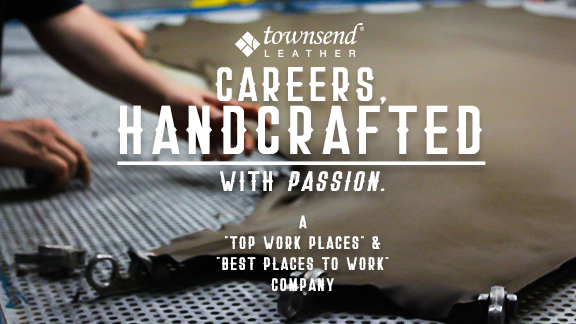 Join us and have your hand in and on the finest leather in the world, that travels across the world.
Taking leather hides then sorting, dyeing, coloring, fine-tuning, enhancing, and beautifying them with the highest level of artistry and craft, turning them into leather for seats literally fit for a king.
Our leather is all over the planet, in the highest-end luxury hotels, to the celebrity private jets that fly to those hotels, to bands posh tour buses, and the dressing rooms of the stages they are headed to.
We do it all and do it best.
Not only is our product the best in the world, but the team that makes it is the best. And continues to win awards proving so! Townsend Leather has been recognized as a Top Place To Work and a Best Place To Work for four years in a row!
We have the greatest team doing the greatest work with the greatest attitude. If you want to take control of your future and craft your career, apply to join our team today: